To quickly jump to a section, please click on the links below:
May: Admissions Form sent home for completion
May: new uniform can be ordered
7 June: Return Admissions Form
6 July: Virtual Transfer Evening
More information on the above events will be sent home in due course.  We are looking forward to meeting you all very soon.
Letters to Parents/Carers
In order to help with our planning, please could you complete the school admissions forms including parental and pupil consents for when your son/daughter joins us in September by Friday 4 June 2021.
You will receive an email from HMS containing instructions on how to fill out the online admissions form.
We outlined the intended Plan A and Plan B approaches to transfer events in our 'Welcome Letter'. As announced on 14 June, the national COVID-19 restrictions have been extended for four weeks meaning that school bubbles cannot mix. We have now concluded (across the Partnership) that hosting our usual transfer events will sadly not be possible. This means that our planned Rounders Afternoon and Transfer Day will not take place. Whilst we are disappointed not to host our usual events, we are committed to ensuring that you and your child feel well prepared for the start to middle school. The current restrictions on social contact mean that even our proposed plan B has been almost impossible. We will instead be holding 'Virtual Transfer Evenings' where you and your child will be able to join a Zoom call to meet senior staff, learn more about our new school and meet the year 5 team. There will also be an opportunity to ask any questions you have about September and beyond. The session will take place on Zoom at 6.00pm on Tuesday 6 July. A summary of our approach is below:
Virtual Transfer Evenings – Tuesday 6 July – please complete the online booking form
Welcome Letters – the children can reply to our welcome letter to tell us 'all about them'
Video Tour and 'Our New School' video – uploaded on this page to enjoy at home
An opportunity to ask us any questions you and your child may have via our online form
Meet our staff – online profiles to read, as well as introductions at our virtual evenings
In September, the first day back for year 5 (when they will be the only year group at HMS) will be a 'transfer day' and will involve a thorough introduction to life at Hexham Middle. For all other year groups, we will ensure that we have more pastoral time to tour the site and settle into our new surroundings over the first few days of term.
All uniform with the Hexham Middle School logo can be purchased from Michael Sehgal & Sons online. Details of the items available and a link to the Michael Sehgal website are here. This page also includes detail on our uniform & PE guidance, which are summarised below. 
HMS Admissions Information Booklet 2021-22
I am pleased to report that building works on the high school site have been progressing very well over recent months and we remain on track to take our place in them from this September. Students at QE are already benefitting from being able to use the new all-weather 3G pitch along with the six court multi-use games area to the north west of our site, and the feedback from them and the PE staff has been very positive indeed.
Below is the most recent aerial view of the works, which gives you a sense of the progress being made and how things are taking shape.
Having had a recent tour of the facilities myself, I can report a real sense of excitement at how wonderful they will be for our pupils, staff and wider community. The short film above will give you a further insight into what is to come.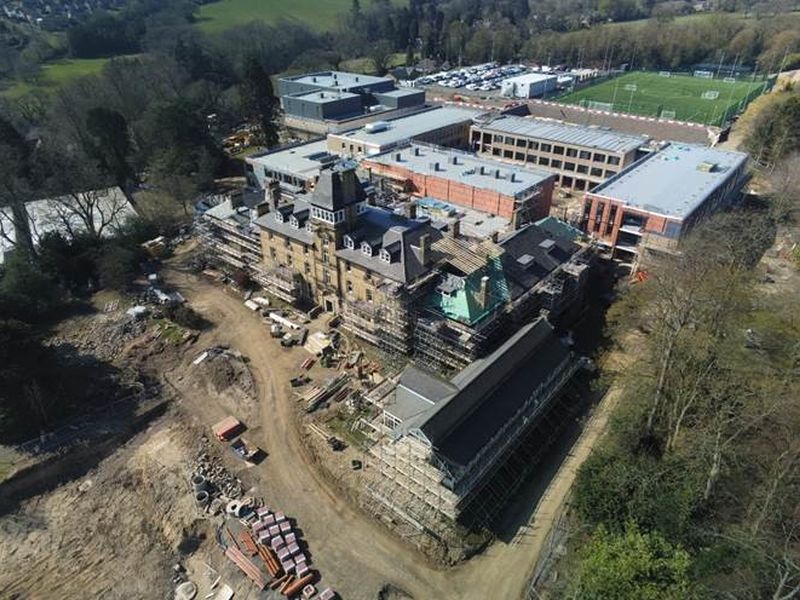 HMS Parents' Guide 2021-22
Please see the attached information (PDF) about Music tuition. 
If you would like your child to continue their tuition, or to start to play a new instrument at HMS, please complete the survey on the link below.  By completing this form you give permission for Hexham Middle School to give your contact details to the relevant music tutor to enable them to contact you directly. For further information, please do not hesitate to contact us 01434 602533.