If you suspect it, report it!
We recognise our moral and statutory responsibility to safeguard and promote the welfare of all pupils. We endeavour to provide a safe and welcoming environment where children are respected and valued. 
The Designated Safeguarding Lead at HMS is Mark Stephenson, Assistant Headteacher. The Deputy Designated Safeguarding Leads are Duncan Scott, Head of Key Stage 3 and Becky Liddle, Head of Key Stage 2.
Online Safety is led by Dave Todd (cross trust AHT) and Mark Stephenson (DSL) 
You can contact all of our safeguarding team via admin@hexhammiddle.org.uk or by calling us on [01434] 610300. 
The nominated child protection trustee for Hadrian Learning Trust is Florrie Darling.
For our full Safeguarding and Child Protection Policy, please see our Policies page.
A leaflet for Parents and Guardians, produced by Northumbria Police, on Prevent - how we can work together to safeguard and support those vulnerable to radicalisation - can be found here (PDF).
OneCall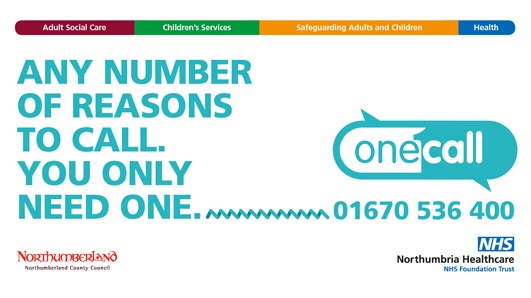 Onecall is one number for all adult social care, children's services and community health enquiries in Northumberland, helping the most vulnerable people to keep safe and well 24-7.
Onecall brings together staff from Northumberland County Council's adult social care and children's services and partners in Northumbria Police.
When do I use it?
Onecall aims to help the most vulnerable people to keep safe and well 24 -7.
For example if you need help withLiving safely and independently at home
Looking after someone who is ill or disabled
Caring for a child or young person
Family support if you are concerned about a child or young person
Reporting abuse or neglect of a child or adult
Finding alternatives if you can't live at home
Recovering from an illness or injury at home
Contact:
Telephone: 01670 536 400
Email: onecall@northumberland.gov.uk
Useful Websites: 
https://stopabusetogether.campaign.gov.uk/?utm_medium=email&utm_source=govdelivery (External URL)
What is Operation Encompass?
The purpose of Operation Encompass is to safeguard and support children and young people who have been involved in a domestic abuse incident. Following an incident at home, children will often arrive at school distressed, upset and unprepared for the day.
Northumberland County Council, the police and nominated Key Adults in school will be working together to make sure that school staff are made aware of an incident early enough to support pupils in school.
You can read more about Operation Encompass in the document below:
Northumbria Police have joined forces with Operation Encompass, Barnados, the Home Office, and the Northumbria Police & Crime Commissioner to publish a series of newsletters covering different aspects of domestic abuse and providing useful links and information. The issues are available to download below: