Careers education is a crucial part of a learner's life journey. At Hexham Middle School, we seek to equip and prepare our pupils for their future. Providing pupils, parents/carers and staff with relevant and current is key to ensure that all of our students can make fully informed decisions about their futures. We offer support to all of our students across all key stages so that they are prepared for adult life and the world of work.
Careers education is delivered through wider-curriculum opportunities including the Personal Development tutorial programme, planned drop-down days and other bespoke events/activities.
Hexham Middle School Careers Leader:
Paul Freeman-Myers (Assistant Headteacher for Personal Development)
Contact: admin@hexhammiddle.org.uk or call on [01434] 610300.
Hexham Middle School Board of Trustees: The school's CEIAG strategy and policy has been formally adopted by the Board of Trustees. The school's careers link trustee is Veryan Johnston.
Click on one of the following links to take you directly to the section you require:
Click here to view the Hexham Middle School Careers Policy (ratified by the board of trustees)
HMS Provider Access Statement
Click here to view Hexham Middle School's Provider Access Statement 
What are the Gatsby Benchmarks?
A report was published in 2014 by the Gatsby Charitable Foundation identifying eight benchmarks (known as the Gatsby Benchmarks), regarded to be key components for driving forward good careers and enterprise provision in schools.  
The Department for Education's "Careers Strategy" was published 3 years after Professor Sir John Holman 2014 report 'Good Career Guidance'. 
 The eight Gatsby Benchmarks include:
A stable careers programme

Learning from career and labour market information

Addressing the needs of each pupil

 

Linking curriculum learning to careers

 

Encounters with employers and employees

 

Experiences of workplaces

 

Encounters with further and higher education

 

Personal guidance

 
Measuring the Impact of our Careers Programme Against the Gatsby Benchmarks
There is a wider programme of evaluation seeking to monitor the impact of HMS' careers programme. Evidence of different Gatsby Benchmark coverage is assessed using the Careers and Enterprise Company's Compass+ platform. This helps the school to monitor and review how effective the careers programme is in achieving these benchmarks. Other evidence to assess the perceived effectiveness of the careers programme is gathered from timely student panels and broader Quality of Education reviews overseen by curriculum leaders and members of the senior leadership team. 
For any new additions to the careers programme we value gather feedback from different stakeholders; this feedback could be from staff, parents/carers, as well as employers and training providers.
At key points across a student's school career they will complete a Future Skills Questionnaire. These questionnaires take place in year 9, year 11 and year 13.  Information gathered from these questionnaires is used to help evaluate and monitor the effectiveness of careers curriculum (including the relevant skills set and knowledge-based required for life beyond school), wider enrichment and broader personal development opportunities. The questionnaires seek to help the school respond effectively to the data collated, to help monitor progress over time, and tailor careers activities (when necessary) to ensure all students can access an ambitious careers curriculum offer
Careers Curriculum Vision
An ambitious and empowering careers provision which has success for every learner at its core, driven by the school ethos of Respect, Engage, Aspire and 'an outstanding eagerness to promote good learning'.  
Our Aims and Priorities for Careers Curriculum, Information, Advice and Guidance
Our school's strategic career plan contains 5 driving priorities: 
To ensure that pupils develop the skills and character traits required to help them engage in their future adult and working lives.

 

To help foster and sustain a culture of high aspiration.

 

To promote equitable opportunity, celebrate diversity and inclusivity, challenge cultural stereotypes and ensure pupils are afforded additional support and guidance  to reach their potential.

To establish sustainable links between the school, local businesses and enterprises and further/higher education providers.

 

To assist pupils in developing skills and confidence to make well-informed decisions about future aspirations and to manage transition from middle to high school.
Careers Programme 2023-24
You can download a copy of the HMS Careers Road Map 2023/24 here.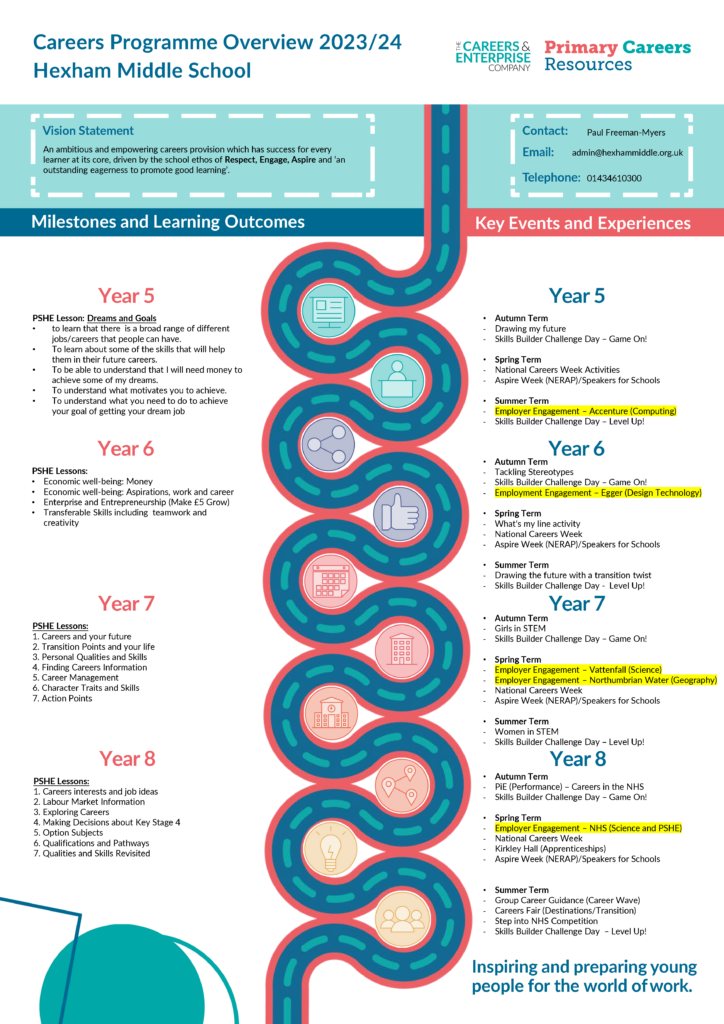 STEM (Science, Technology, Engineering and Maths)
At Hexham Middle School, key staff who contribute towards our STEM curriculum are committed to embedding careers. Where possible, our STEM teachers actively signpost how their subject supports critical industrial sectors which are regarded as areas of economic growth and opportunity. 
This article (external URL) is all about stereotypes in Engineering.
Activities, Competitions and More!
Throughout the year, there will be opportunities to take part in a range of exciting opportunities and competitions. 
Hexham Middle School Alumni
We would like to share the life experiences of our past pupils as well as highlight the different career journeys they have had and pathways they now intend to pursue. Most pupils progress onto Queen Elizabeth High School, so we naturally benefit from this larger alumni body.  We are however specifically interested in hearing from former HMS pupils. 
We understand that alumni stories and career profiles can be the catalyst for motivation and a source of inspiration. It has also been said that "variety is the spice of life." Life is more interesting when you try new things to vary your experiences.   
If you have previously attended Hexham Middle School and would like to share your career testimony, please fill in our alumni questionnaire by clicking here or contact Paul Freeman-Myers at admin@hexhammiddle.org.uk or 01434 610300 .
Please see below some videos giving details of various different careers that pupils may be interested in. Please note that these videos are the 'Job of the Week' from an external provider, MyPath (link to their external channel here), and all historic Jobs of the Week here.
Here is a selection of careers to learn more about.
National 

Careers

 Week 2023 is approaching
At Hexham Middle School, our 
careers
programme
 provides some opportunities for pupils to learn more about different career and training pathways.  Our school website also has a 
careers
 section with a dedicated section for parents and carers. Please do visit this for further information. If you are a former pupil of Hexham Middle School and you would like to become part of our alumni network to be more involved in different school activities, including those related to 
careers
 education, please complete this 
form
. We are currently looking at ways to develop a project called 'Aspire' Talks which could involve alumni. 
You may be aware of a growing level of interest in apprenticeships nationally. 
Year 8, have already experienced a live performance this year entitled 'Why Care'. This was a high impact, exciting, educational theatre performance that raises awareness of the rewarding world of health care in a fun 40-minute interactive experience, as well as, challenges
 misconceptions and stereotypes surrounding the types of employment in the NHS including over 350 wide-ranging, clinical and non-clinical career pursuits.  In the northeast of England, Health Care and Life Sciences is in fact an area of strategic importance and part of the regional career and industry strategy. 
During National Career Week (6-10 March), we would like draw attention to some resources produced by Amazing Apprenticeships, that parents/carers may want to use with their children (see below). These resources are intended to be informative and a fun way to learn more about apprenticeships. We would like our pupils to gain knowledge of many different opportunities that are available to them.  We also feel that it is important that parents/carers are fully informed of the developments in further training and education options, especially in dispelling common misconceptions.  Some may be thinking that pupils attending a middle school are too young to start exploring the possibilities of apprenticeships. In fact, some of our pupils, including those in key stage 2, will be starting to form judgements about their future and potential destinations. We do not want to limit opportunity – we want to maximise opportunity. 
Apprenticeship Resources – This link takes you directly to the resources section of Amazing Apprenticeships website.  Used by schools, it can also provide some useful material for parents/carers too, including podcasts.
Apprenticeship Arcade
 – This is a great resource for pupils to access.  The interactive games are a great way to assess what they already know about apprenticeships as well as learn something new.
We are delivering assemblies to all year groups next week relating to National 

Careers

 Week, as well as, the observance of International Women's Day. We will be signposting a great booklet resource that outlines an A-Z of different job roles undertaken by different women via an apprenticeship route.  This booklet will be printed and made available in the library.