REMOTE LEARNING UPDATE: SEPTEMBER 2021
Accessing remote learning
Please see below the letter from January 2022 detailing remote learning provision for this term: 
Below you will find the information you need to access remote learning. Our website contains guidance, resources and useful links to support you and your child at home. You can also contact us via admin@hexhammiddle.org.uk with any questions you may have. We will continue to use Google Classroom as our main platform for remote education as well as the many other online resources available to our pupils (links on our website).
Joining instructions for Google Classroom
Make sure your child has joined the right class for them (codes have been sent home).  
Your child needs to log into Google Classroom through School 360.  
They enter the Google Classroom for the lesson taking place.  
At the top of the classroom (under the class name), they should see a Google Meet link which they need to click.  
This will take them into the lesson (once allowed by the teacher).  
Once in the meeting, your child should click 'mute' and communicate with the teacher via the chat feature. They should not chat between themselves either aloud or on the chat feature.  
Ms Carruthers has prepared a very helpful tutorial for pupils, parents and staff which can be watched here.  
Remote access concerns 
If you are concerned that your child cannot access online learning, please let us know as soon as possible. Arrangements will always be made to provide all pupils with learning resources they can access at home. We will provide paper-based materials, including textbooks, for your child to continue their learning. We would however encourage all pupils to try to access the live lessons even if this is via a mobile or tablet device so that they can hear the teaching. Please let us know by calling or emailing the office as soon as possible so we can provide resources as quickly as possible. We will also have a limited supply of devices which we can loan to those who need them (these will be allocated as needed).  
We are always here to support you and your child with any aspect of remote learning so please get in touch with us if you need to. This is new for everyone so we thank you for your patience as we move this approach forward. Thank you for your continued support.
To support learning from home, we have put various measures in place; we are aiming to make it as easy as possible for pupils (and for parents supporting them) to continue their education. For pupils who do not have internet access, we will provide paper-based activities.
To quickly jump to a section, please click on the links below:
Please find information on our Live Lessons below.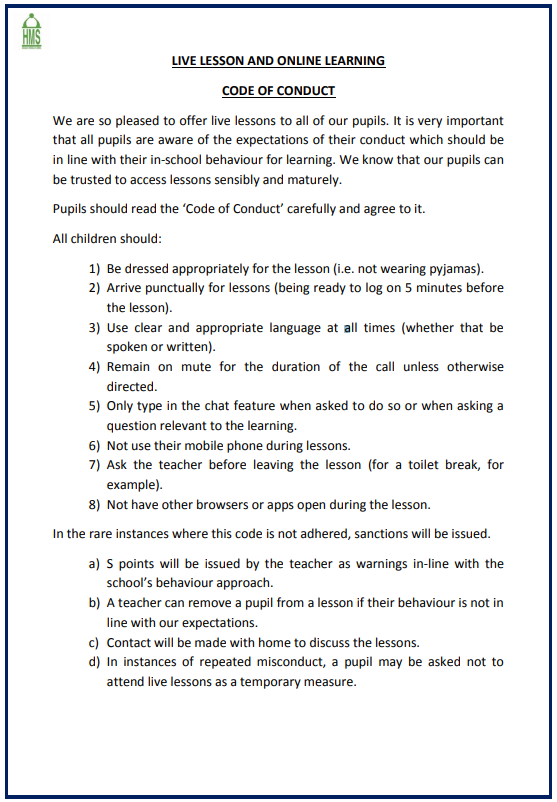 Resources to Support Learning at Home
Google Classroom Tutorials
Our very own Mrs Tanner has been very busy creating four amazing video tutorials for using Google Classroom – see the links below. They are informative, clear and allow you to listen and watch exactly what Mrs Tanner is doing. Thank you so much, Mrs Tanner! We hope you find these useful as you explore Google Classroom over the coming weeks. 
Google Classroom: Log on & join a class
Google Classroom: Completing work set
Google Classroom: Features
Google Classroom: Adding/creating work
School 360/Google Classroom
All pupils have access to the online learning platform School 360 (External URL); they have all been reminded of their log in details (in their planners). School 360 is a platform which pupils are familiar with.
Once logged in, pupils can access Google Classroom. Google Classroom is a website where teachers can add lessons and activities for pupils to complete at home.
To join classes, pupils should follow the below steps:
Find www.school360.co.uk
Log in using their username and password
Click the link to 'Classroom'
This will re-direct them to 'Google Classroom'
Click the + in the top right corner and click 'Join Class'.
Enter the code for the classes provided (see codes below).
Once pupils have joined their classes (all class details are provided below), they can access their lessons set by their teacher. Daily work will be added for pupils and this should become part of your child's routine. This work will also be marked using online feedback so that support can be provided.
On the School 360 site, pupils can also access a whole range of activities which have been set by their teachers. Quizzes have been set for all year groups for English, maths and science and pupils should aim to spend at least 30 minutes per day on these activities (free choice). These can be accessed through the School 360 platform via the 'Frog Play' and 'J2e' apps – pupils are again familiar with accessing this resource.
Google Classroom FAQs & Contact Details
Remember, we are always at the end of an email or phone during this period of school closure. There are many ways you can contact us:
Home learning questions:

Email: admin@hexhammiddle.org.uk
Email your teacher via their School360 account
Comment in the comments section of your assignments and your teacher will aim to respond to you as soon as they can.

General school questions:

Contact the school office line (although the office will be very busy this week especially, so email will be the best option)

Safeguarding concerns:
We know that some of you are having a few problems turning in work on Google Classrooms at the minute; remember to use Google Chrome as your browser. If that still doesn't work, please follow the advice in this video. Thank you to Edward Dando for creating this video and finding a solution to this problem.
Accessing Google Classroom from a Games Console
It is possible to access Google Classroom from a Games Console.  See image below: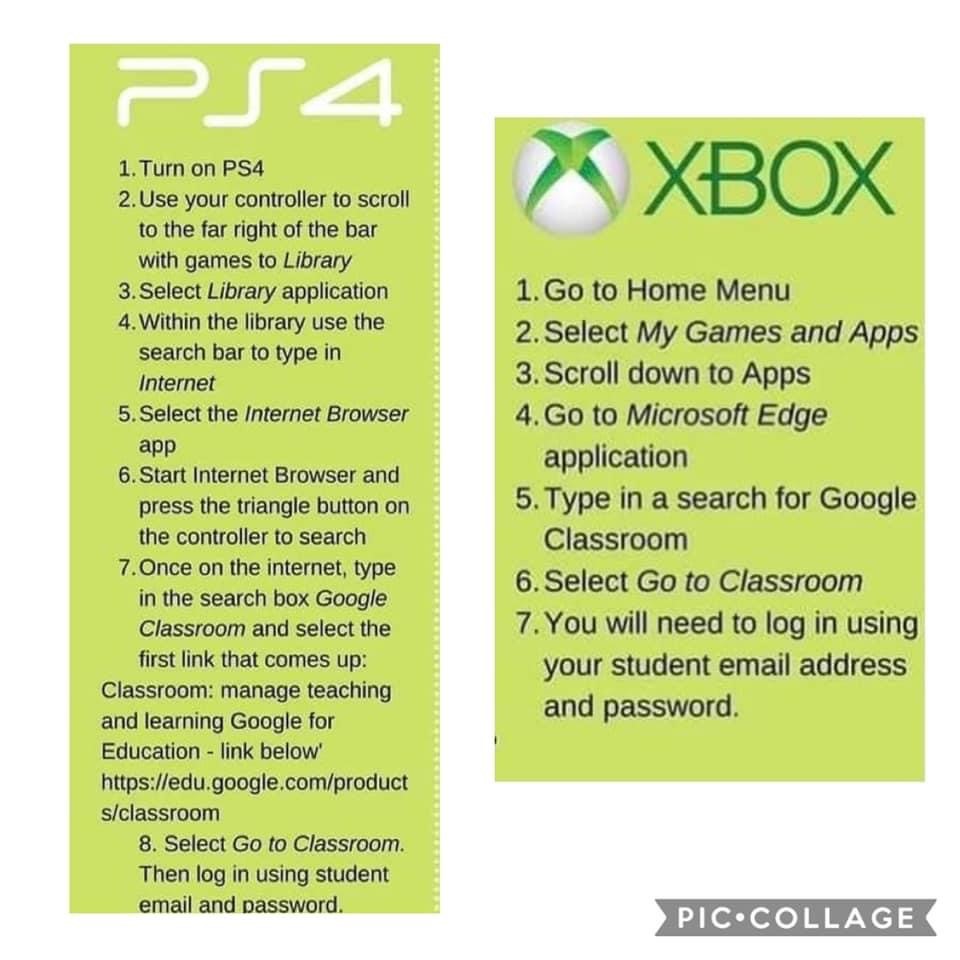 Frequently asked questions regarding Google Classroom
We hope you find this information useful. Be patient and resilient – keep in contact with us and we will work out the issues you face. Please also look out for one another; support each other with online support, guidance and tips.
If anyone requires any additional support with anything at all, whether that be school work related or not, please get in touch with us and we will aim to support in any way we possibly can. We all must stick together!
Other Online Platforms & Expected Daily Activities
Pupils also have access to several other online platforms which they can use to progress their learning. Tasks have been set for the following sites. These are free choice activities but pupils should aim to spend at least 30 minutes per day accessing such sites.
As part of your child's daily routine, please build in time for the above sites to enable them to have regular practice. They will also enjoy these sites as they are engaging and used regularly in school.
Mr Armstrong has provided a variety of activities and challenges to keep you busy in the downloadable document below.
How many can you do? Bonne chance!
Miss Prince has been collecting book recommendations for pupils, starting with her favourite book as a child: The Secret Garden.
https://www.facebook.com/HexhamMiddle/videos/261165494933027/
More book recommendations, including some from HMS pupils, are:
The Trials of Apollo by Rick Riordan
'A guy used to be a Greek God but he woke up in a dumpster in a New York alley as a 16 year old boy. He has to complete harrowing trials to become a God again. It is very exciting and quite funny.'
Johnny Masterman
Jurassic Park by Michael Crichton
'I enjoyed reading Jurassic Park by Michael Crichton. As a fan of the movies I thought I would enjoy the book, and I did. There was lots of suspense, action, good characters and most importantly, a large amount of dinosaurs, which is ultimately expected. I enjoyed it more than the film as well. I would recommend it to people who like dinosaurs and books.'
Zachary Marks
My Royal Story series by various authors
'In Year 7 recently I have been reading the My Story books. I am really enjoying these books because they are like taking a dive into the past. There is a series of books and each one about a different era in the past.
These books are very good for anyone who looks for a mystery in their imagination or if you are looking for something different.
I love reading these because I like to imagine I'm in the past and what it would be like.
As well as these being a great series to read they are very educational in learning about history.
I would really recommend this series to children or adults from age 9 as there may be a few gruesome parts.'
Matilda Williamson
Establishing Structured Routines
The DfE recommends that primary pupils complete remote learning for at least 4 hours a day with secondary pupils completing at least 5 hours. We ask that your child tries their best to follow their in-school timetable and joins us for their live lessons at their allocated time (individual class timetables have been sent home). We also recognise that every home is different and we understand that you may need to take a more flexible approach. We are here to support in any way we can to help your child find a working routine for them.
Thank you for reading this information – we appreciate that there is a lot to take in – and thank you in advance for supporting your child so that their learning can continue at home. The staff are working exceptionally hard to make sure that all of our pupils can continue to learn in any circumstances but this is all new to us too so please be patient as we get resources set up.
If you or your child have any questions or struggle to gain access to the above sites, please get in touch with us.